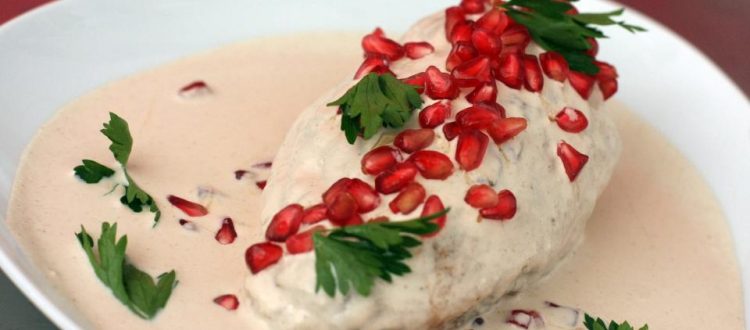 WALNUT SAUCE CHILES, A PATRIOTIC SYMBOL.
The Chiles in walnut sauce have been called the "Puebla dish par excellence". Internationally recognized as one of the finest and most representative dishes of Mexican gourmet cuisine.
This dish is served during the months of July, August, and September, due to the fact that the walnuts for the sauce are harvested during these months. Such as the Granada, which is also a seasonal fruit; this determines the high cost dish.
According to the good, but too imaginative writer, Don Artemio del Valle Arizpe this saucer was the result of spontaneous inspiration of some nuns in Puebla, who made it to receive the General Iturbide and the Army of the Three Guarantees in the day of his saint.
Anyway, the truth about the worthies Chiles in Walnut Sauce, which today are considered a national symbol and a source of intense patriotic fervor, is that they have been the product of the constant historical evolution and over years they have taken different forms and incorporated different elements depending on the region and time.
For example, to fry the Poblano Peppers in lard is considered, in the capital city, something of bad taste, related to rural or food of poor people, so in order to make a light version of the dish, in the city the Peppers are not fried. However, this imposture in Puebla, constitutes a forgery and a heresy.
Finally, some researchers point out that the recipe of the creamy walnut sauce that coats the pepper was slippery introduced into the Mexican cuisine but its origins can be tracked to the prestigious culinary tradition of France.
What then is the recipe that is closer authentic?
All and none, of course.
Recipe: